BR-7840: Brocade 7840 EXT, 24x 16GB FC ports, 16x 10GB XGE ports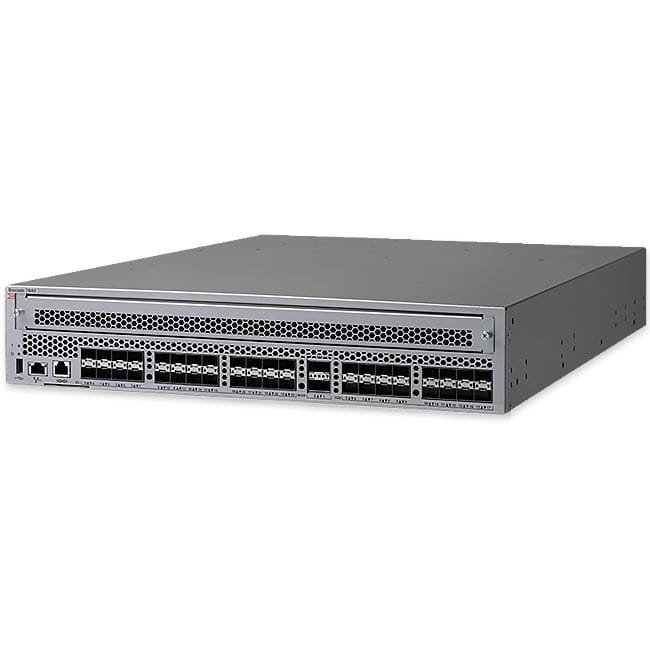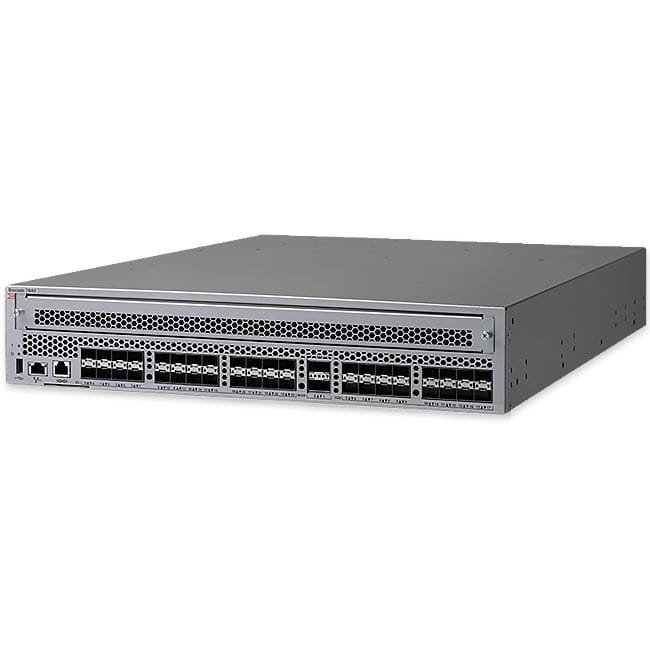 Description
Specifications
(Click here to contact us for full compatibility with your hardware.)
All hardware is new unless otherwise noted.
Brocade Part Number: BR-7840
The Brocade 7840 is an enterprise-class solution for high-speed, secure transport of data between data centers while maintaining uptime.
Brocade 7840 EXT, 24x 16GB Fibre Channel (FC) ports, 16x 10GB XGE ports
Compatible with Storwize V3700 and others. Check with Vertical Enterprise for full compatibility with your hardware particularly if you have questions concerning IBM / Lenovo Storwize compatibilty.
To all of our existing clients over the past 10 years:
Thank you for your continued business. We will strive to provide you with the highest level of quality hardware at competitive prices. If you don't see it on our site, please email us and we will update you with pricing and availability.
To all of our new clients:
Thank you for your consideration and the opportunity to work with you on your hardware needs. We stand behind our product with solid warranties, we provide high quality customer service and we appreciate your business.
Pricing can be flexible to meet your project and budget needs.
| | |
| --- | --- |
| Lifecycle | Active |
| Fibre Channel Ports | 24 ports, 16 Gbps, universal (E, F, M, D, and EX ports) |
| Ethernet Ports | 16 ports of 1/10 GbE for LAN and WAN connectivity2 ports of 40 GbE for WAN connectivity |
| Port Types | F_Port, E_Port, EX_Port, (FCR E_Port), D_Port (Diagnostic), M_Port (Mirror), and self-discovery based on switch type (U_Port); VE_Port (FCIP and IP) |
| Class_of_Service | Class 2, Class 3, Class F (inter-switch frames) |
| Fibre Channel Performance | 2.125 Gbps line speed, full duplex; 4.25 Gbps line speed, full duplex; 8.5 Gbps line speed, full duplex; 14.025 Gbps line speed, full duplex; auto-sensing of 2, 4, 8, and 16 Gbps port speeds |
| Certified Maximum | Single fabric: 56 domains, 7 hopsMultiprotocol routing fabric: 19 hops |
| Scalability | Full fabric architecture with 254 switches maximum |
| Enclosure | 2U chassis designed to be mounted in a 19-in. cabinet |
| Fibre Channel ports | 24 ports, 16 Gbps, universal (E, F, M, D, and EX ports) |
| Ethernet ports | 16 ports of 1/10 GbE for LAN and WAN connectivity |
| | 2 ports of 40 GbE for WAN connectivity |
| Scalability | Full fabric architecture with 254 switches maximum |
| Certified maximum | Single fabric: 56 domains, 7 hops |
| | Multiprotocol routing fabric: 19 hops |
| Fibre Channel performance | 2.125 Gbps line speed, full duplex; 4.25 Gbps line speed, full duplex; 8.5 Gbps line speed, full duplex; 14.025 Gbps line speed, full duplex; auto-sensing of 2, 4, 8, and 16 Gbps port speeds |
| Ethernet interfaces | 1 GbE, 10 GbE, and 40 GbE |
| Brocade Trunking (BT) | Up to eight 16 Gbps ports per Brocade Trunk; up to 128 Gbps per trunk. There is no limit to how many trunk groups can be configured in the switch. |
| Fabric latency | 700 ns with no contention, cut-through routing at 16 Gbps |
| Maximum Fibre Channel frame size | 2,112-byte payload |
| Maximum IP MTU size | Jumbo Frames at 9,216 bytes |
| Classes of service | Class 2, Class 3, Class F (inter-switch frames) |
| Port types | F_Port, E_Port, EX_Port, (FCR E_Port), D_Port (Diagnostic), M_Port (Mirror), and self-discovery based on switch type (U_Port); VE_Port (FCIP and IP) |
| Data traffic types | Fabric switches supporting unicast, multicast (255 groups), and broadcast |
| USB | One USB port for system log file downloads or firmware upgrades |
| Media types | Fibre Channel: Brocade hot-pluggable Small Form Factor (SFP) and SFP+, short wavelength (SWL), long wavelength (LWL), and extended long wavelength (ELWL) transceivers (available wavelength options vary for 8 Gbps and 16 Gbps SFPs) |
| | Ethernet: Brocade hot-pluggable Small Form Factor (SFP) and SFP+, short reach wavelength (SRWL), long reach wavelength (LRWL), extended long wavelength (ELWL), and copper SFP/SFP+ transceivers (available reach options vary from 1 GbE, 10 GbE, and 40 GbE) |
| Fabric services | Simple Name Server (SNS); Registered State Change Notification (RSCN), NTP, RADIUS, RCS (Reliable Commit Service), Dynamic Path Selection (DPS), Exchange-based routing, device-based routing, port-based routing, lossless), Brocade Advanced Zoning, Web Tools, Extension Trunking, Adaptive Rate Limiting, WAN Test Tool (Wtool), Open Systems Tape Pipelining (OSTP), Fast Write, Adaptive Networking with QoS, Extended Fabrics, Fabric Vision technology, and Advanced Extension. Optional Fabric Services include: Integrated Routing (FCR), FICON CUP, FICON Management Server (FMS), and Advanced Accelerator for FICON. |
| Supported management software | SSH v2, HTTP/HTTPS, SNMP v1/v3, Telnet; SNMP (FE MIB, FC Management MIB); Brocade Web Tools; Brocade Network Advisor SAN Enterprise or Brocade Network Advisor Professional/Professional Plus (optional); Command Line Interface (CLI); SMI-S RADIUS, LDAP |
| Security | AES-GCM-256 encryption on ISLs, AESGCM-256 IPsec encryption on virtual ISLs (VE_Port), DH-CHAP (between switches and end devices), FCAP switch authentication; FIPS 140-2 L2-compliant, HTTPS, IP filtering, LDAP with IPv6, OpenLDAP, Port Binding, RADIUS, TACACS+, User-defined Role-Based Access Control (RBAC), Secure Copy (SCP), Secure RPC, SFTP, SSH v2, SSL, Switch Binding, Trusted Switch |
| Management access | 10/100/1000 Ethernet (RJ-45); serial port (RJ-45) and one USB port |
| Diagnostics | POST and embedded online/offline diagnostics, including D_Port, FCIP ping, FCIP traceroute, FCping, Pathinfo (FCtraceroute), Wtool, and Ftrace |
| Enclosure | Back-to-front airflow; 2U, 19-in. EIA-compliant, power from back |
| Size | Width: 17.32 in. |
| | Height: 3.4 in. |
| | Depth: 24.0 in. |
| System weight | 44.2 pounds |
| Temperature | Operating: 32 Degrees F to 104°F |
| | Non-operating: -13 Degrees F to 158°F |
| Humidity | Operating: 10% to 85% (non-condensing) |
| | Non-operating: 10% to 90% (non-condensing) |
| Altitude | Operating: 9842 ft |
| | Storage: 39,370 ft |
| Shock | Operating: 20 g, 11 ms, half-sine |
| | Non-operating: 33 g, 11 ms, half-sine, 3/eg Axis |
| Vibration | Operating: 1.0 g sine, 0.5 grms random, 5 to 500 Hz |
| | Non-operating: 2.4 g sine, 1.1 grms random 5 to 500 Hz |
| Airflow | Maximum: 158 CFM |
| Power supply | Dual hot-swappable redundant power supplies |
| Power inlet | C14; requires C13 plug |
| Input voltage | 90 to 264 VAC nominal |
| Input line frequency | 47 to 63 Hz nominal |
| Inrush current | Maximum of 40 amps for period of 10 to 150 ms |
| Power | Short-range optics: Nominal 388 watts/ 1,324 BTU/hr; maximum 454 watts/1,550 BTU/hr |
| | Long-range optics: Nominal 426 watts/1,454 BTU/hr; maximum 492 watts/1,679 BTU/hr |