9831-AE2: 9831-AE2 IBM FlashSystem 820 Model 820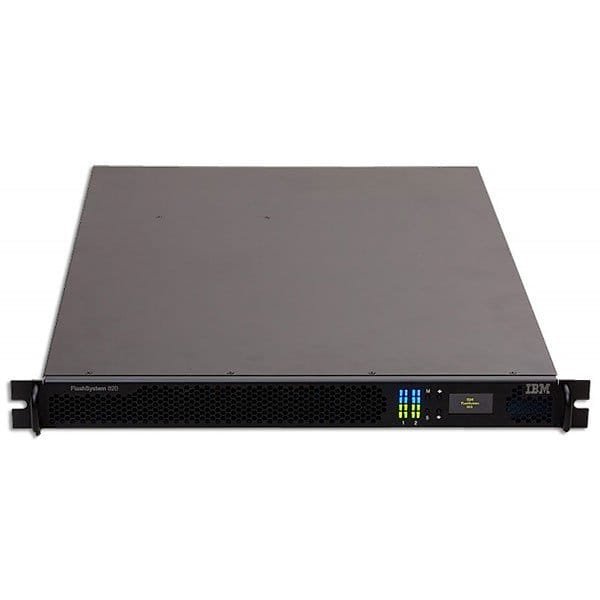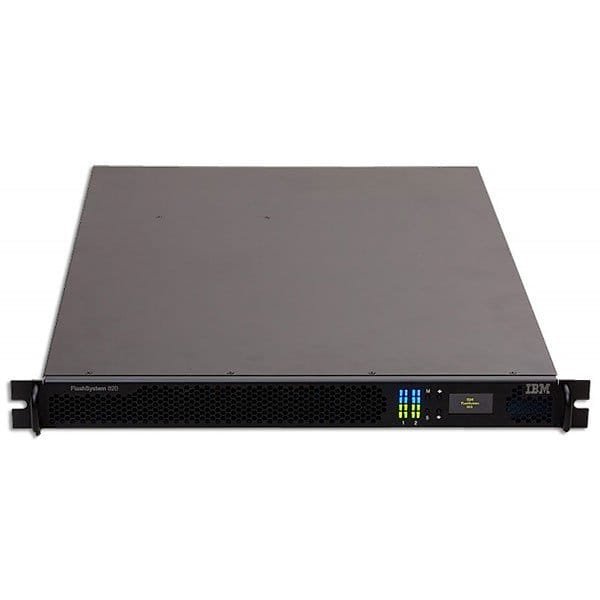 Description
Specifications
IBM Part Number: 9831-AE2
IBM FlashSystem 720 (9831-AS2) and FlashSystem 820 (9831-AE2) storage systems offer high performance, efficiency, and reliability for shared enterprise storage environments. These IBM storage systems may be used as data storage for large-scale applications that need low latency, such as large-scale databases and virtualization platforms.
These FlashSystem storage systems can work with or replace traditional hard drive arrays in many applications. As standard shared primary data storage devices, FlashSystem 720 and FlashSystem 820 storage systems deliver performance beyond that of most traditional arrays, even those that incorporate SSDs or other flash technology. FlashSystem 720 and FlashSystem 820 storage systems can also be used as the top tier of storage alongside traditional arrays in tiered storage architectures, such as the IBM Easy Tier functionality available in IBM System Storage SVC or Storwize V7000 storage virtualization platforms.
Four 8 Gbps Fibre Channel (FC) or 40 Gbps quadruple data rate (QDR) InfiniBand interface ports
Up to 10 TB of usable RAID 5 protected single-level cell (SLC) flash storage capacity (12.4 TB usable RAID 0, 16.5 TB raw capacity), or 20 TB of usable RAID 5 protected enterprise multi-level cell (eMLC) flash (24.7 TB usable RAID 0, 33.0 TB raw capacity) storage
Dual power supplies with batteries to shut down safely in power loss events
Web-based user interface with Service Center software for centralized and simplified service and support
Four external interface ports, with a choice of either 8 Gbps FC or 40 Gbps QDR InfiniBand
Single or double density flash modules for two capacity points per model
Two redundant RJ45 10/100/1000BASE-T Ethernet ports for management, monitoring, and support connectivity via web, secure shell (SSH), and simple network monitoring protocol (SNMP) interfaces
Two redundant, hot-swappable power supply modules compatible with single-phase AC power systems around the world (100 - 240 V ac 50/60 Hz)
9831-AE2 IBM FlashSystem 820 Model 820
Compatible with IBM FlashSystem and others. Check with Vertical Enterprise for full compatibility with your hardware particularly if you have questions concerning IBM storage compatibilty.
To all of our existing clients over the past 10 years:
Thank you for your continued business. We will strive to provide you with the highest level of quality hardware at competitive prices. If you don't see it on our site, please email us and we will update you with pricing and availability.
To all of our new clients:
Thank you for your consideration and the opportunity to work with you on your hardware needs. We stand behind our product with solid warranties, we provide high quality customer service and we appreciate your business.
Pricing can be flexible to meet your project and budget needs.
| | |
| --- | --- |
| Series | IBM FlashSystem 820 |
| Model | 9831-AE2 |
| Flash type | eMLC |
| | 10 TB |
| Usable capacity | 12.4 TB |
| Usable capacity RAID 5 (TB) | 10.3 TB |
| Raw maximum capacity (TB) | 16.5 TB |
| Minimum latency Write | 25 microseconds |
| Minimum latency Read | 110 microseconds |
| Minimum latency Read (from host) | 160 microseconds |
| Maximum IOPS 4KB 100% read | 525k |
| Maximum IOPS 4KB Mixed 70/30% read/write | 430k |
| Maximum IOPS 4KB 100% write | 280k |
| Maximum bandwidth 256 KB | |
| Read | 3.3 GB/s (Fibre Channel) |
| | 5 GB/s (InfiniBand) |
| Write | 2.8 GB/s (Fibre Channel) |
| | 2.8 GB/s (InfiniBand) |
| Power | 300 Watts |
| Cooling | 1023 BTU/hr. |
| Reliability | High-availability hardware configuration |
| | Two-dimensional flash RAID |
| | Module-level Variable Stripe RAID |
| | System-level RAID 5 across modules |
| | Hot-swappable flash modulesRedundant interfaces |
| Supported RAID levels | 0 and 5 |
| Connectivity options | 4 x 8 Gb/s Fibre Channel |
| | 4 x 40 Gb/s QDR InfiniBand |
| | |
| Maximum volume support (LUNs) | 1,024 |
| Management interfaces | Web, SSH, Telnet |
| Enclosure dimensions (H x W x D) | 1U x 432 mm x 638 mm (1U x 17 in. x 25 in.) |
| Weight | 13.3 kg / 29.3 lb |