Cisco Catalyst 1000 PN: C1000-24P-4X-L - 24 Gigabit Ethernet (GbE) RJ45 PoE+ (4 SFP+) PoE 195W - Fanless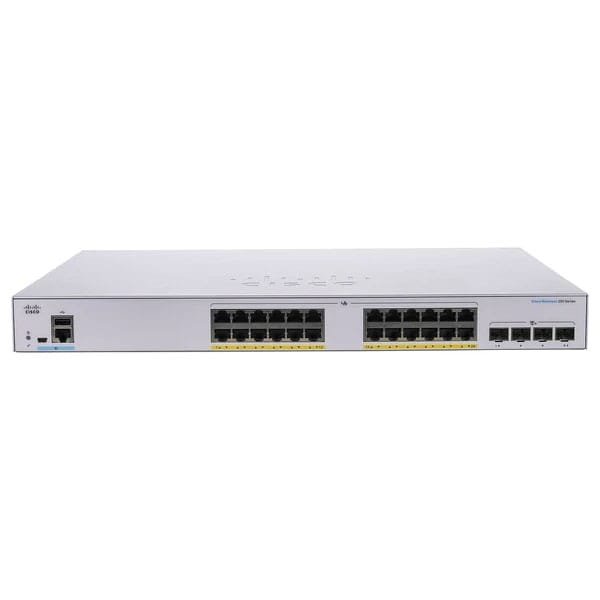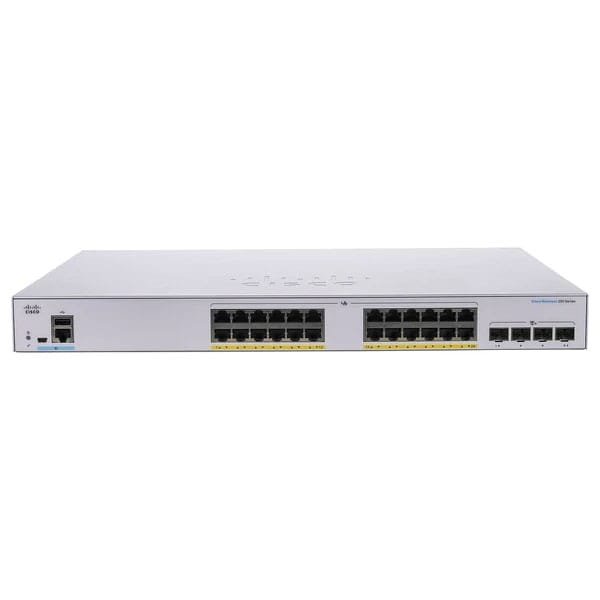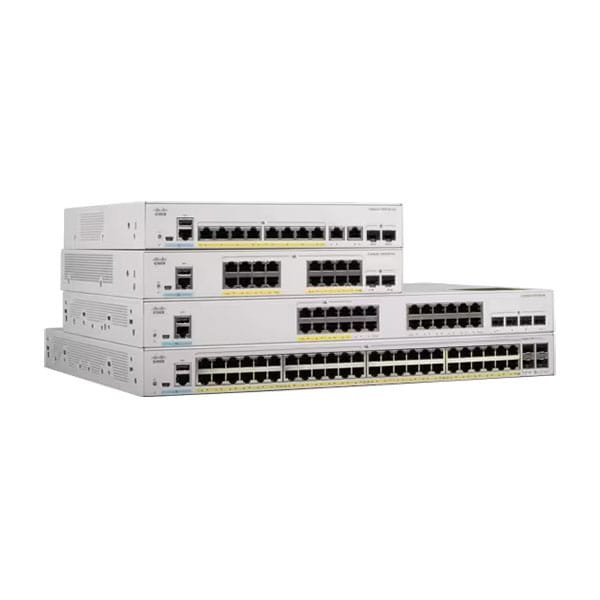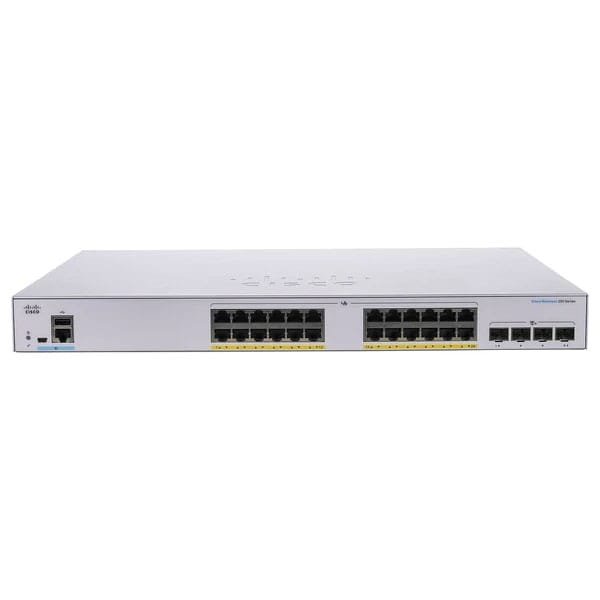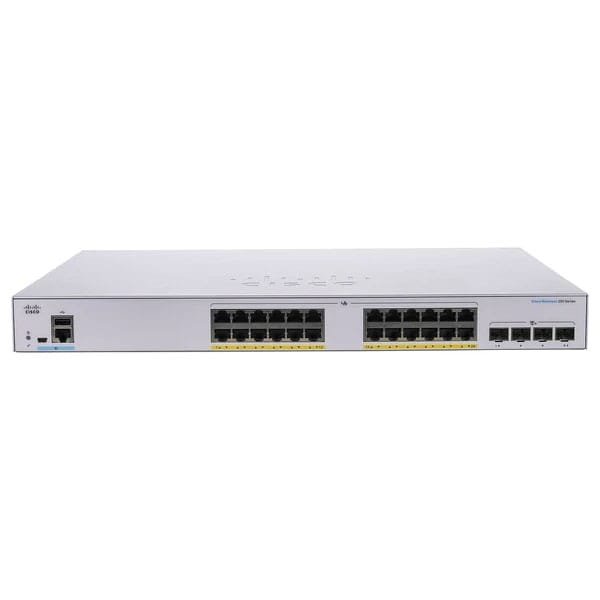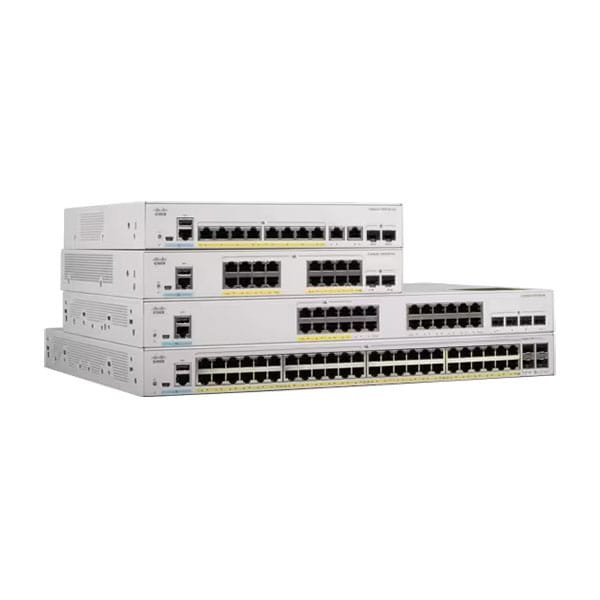 Description
Specifications
Cisco Part Number:
C1000-24P-4X-L
This PN provides one Cisco Catalyst 1000 Series 24 Port Gigabit Ethernet (GbE) RJ45 PoE+ (4 SFP+) PoE 195W - Fanless.
Switches in the Cisco Catalyst 1000 Series are fixed ("Fixed" meaning: the switch provides a fixed number of ports and is typically not expandable) managed ("Managed" meaning: A managed switch brings the flexibility to control, manage, and prioritize LAN traffic and more.)
They are also Gigabit Ethernet and Fast Ethernet enterprise-class Layer 2 switches, mainly meant for small businesses and branch offices.
The Catalyst 1000 Series swtiches are simple, flexible and secure and they operate on Cisco IOS Software. The Cisco IOS Software offers management via a Command-Line Interface (CLI) and a web GUI. Also available is device management support with access via Bluetooth, Simple Network Management Protocol (SNMP) and RJ-45 console access.
| | |
| --- | --- |
| Product ID | C1000-24P-4X-L |
| Gigabit Ethernet / FE ports | 24 10/100/1000 RJ45 PoE+ |
| Uplink interfaces | 4 SFP+ |
| PoE+power budget | 195W |
| Fanless | Yes |
| Dimensions (WxDxH in inches) | 17.48 x 11.76 x 1.73 |
| Weight (kg) | 3.68 |
| RJ-45 Ethernet | 1 |
| USB-A port for storage and Bluetooth console | 1 |
| CPU | ARM v7 800 MHz |
| DRAM | 512 MB |
| Flash memory | 256 MB |
| Forwarding bandwidth | FE: 6.4 Gbps |
| | 1G: 28 Gbps |
| | 10G: 64 Gbps |
| Switching bandwidth | FE: 12.8 Gbps |
| | 1G: 56 Gbps |
| | 10G: 128 Gbps |
| Forwarding rate (64-byte L3 packets) | FE: 9.52 Mpps |
| | 1G: 41.67 Mpps |
| | 10G: 95.23 Mpps |
| Unicast MAC addresses | 16000 |
| IPv4 unicast direct routes | 542 |
| IPv4 unicast indirect routes | 256 |
| IPv6 unicast direct routes | 414 |
| IPv6 unicast indirect routes | 128 |
| IPv4 multicast routes and IGMP groups | 1024 |
| IPv6 multicast groups | 1024 |
| IPv4/MAC security ACEs | 600 (FE: 384) |
| IPv6 security ACEs | 600 (FE: 256) |
| Maximum active VLANs | 256 |
| VLAN IDs available | 4094 |
| Maximum STP instances | 64 |
| Maximum SPAN sessions | 4 |
| MTU-L3 packet | 9198 bytes |
| Jumbo Ethernet frame | 10,240 bytes |
| Dying Gasp | Yes (FE: No) |
| MTBF in hours (data) | 2,026,793 |
| MTBF in hours (PoE) | 698,220 |
| MTBF in hours (Full PoE) | 698,220 |
| Operating temp Sea level | Minus 5 to 50 deg C |
| Operating temp Up to 5,000ft (1500 m) | Minus 5 to 45 deg C |
| Operating temp Up to 10,000 (3000 m) | Minus 5 to 40 deg C |
| Operating altitude | 10,000 ft (3,000m) |
| Operating relative humidity | 5 percent to 90 percent at 40 deg C (non-condensing) |
| Storage temperature | 13 to 158F |
| Storage altitude | 15,000 ft (4500m) |
| Storage relative humidit | 5 percent to 95 percent at 65 deg C (non-condensing) |
| Voltage | 110 to 220V AC in |
| Frequency | 50 to 64Hz |
| Current | 0.20A to 0.33A |
| Power rating | 0.06 kVA |
| Safety | UL 60950-1 Second Edition, CAN/CSA-C22.2 No. 60950-1 Second Edition, EN 60950-1 Second Edition, IEC 60950-1 Second Edition, AS/NZS 60950-1, IEC 62368-1, UL 62368-1 |
| | GB 4943.1-2011 |
| EMC: Emissions | 47CFR Part 15 Class A, AS/NZS CISPR32 Class A, CISPR32 Class A, EN55032 Class A, ICES-003 Class A, VCCI-CISPR32 Class A, EN61000-3-2, EN61000-3-3, KN32 Class A, CNS13438 Class A |
| EMC: Immunity | EN55024 (including EN 61000-4-5), EN300386, KN35 |
| Environmental | Reduction of Hazardous Substances (RoHS) including Directive 2011/65/EU |
| Telco | Common Language Equipment Identifier (CLEI) code |
| U.S. government certifications | USGv6 and IPv6 Ready Logo |
| Connectors and interfaces | |
| Ethernet interfaces | 10BASE-T ports: RJ-45 connectors, 2-pair Category 3, 4, or 5 Unshielded Twisted Pair (UTP) cabling |
| | 100BASE-TX ports: RJ-45 connectors, 2-pair Category 5 UTP cabling |
| | 1000BASE-T ports: RJ-45 connectors, 4-pair Category 5 UTP cabling |
| | 1000BASE-T SFP-based ports: RJ-45 connectors, 4-pair Category 5 UTP cabling |
| Indicator LEDs | Per-port status: link integrity, disabled, activity |
| | System status: System |
| Console cables | CAB-CONSOLE-RJ45 Console cable 6 ft. with RJ-45 |
| Power | Use the supplied AC power cord to connect the AC power connector to an AC power outlet |
| | Models have external power supply |
| Management | BRIDGE-MIB |
| | CISCO-CABLE-DIAG-MIB |
| | CISCO-CDP-MIB |
| | CISCO-CLUSTER-MIB |
| | CISCO-CONFIG-COPY-MIB |
| | CISCO-CONFIG-MAN-MIB |
| | CISCO-DHCP-SNOOPING-MIB |
| | CISCO-ENTITY-VENDORTYPE-OID-MIB |
| | CISCO-ENVMON-MIB |
| | CISCO-ERR-DISABLE-MIB |
| | CISCO-FLASH-MIB |
| | CISCO-FTP-CLIENT-MIB |
| | CISCO-IGMP-FILTER-MIB |
| | CISCO-IMAGE-MIB |
| | CISCO-IP-STAT-MIB |
| | CISCO-LAG-MIB |
| | CISCO-MAC-NOTIFICATION-MIB |
| | CISCO-MEMORY-POOL-MIB |
| | CISCO-PAGP-MIB |
| | CISCO-POE-EXTENSIONS-MIB |
| | CISCO-PORT-QOS-MIB |
| | CISCO-PORT-SECURITY-MIB |
| | CISCO-PORT-STORM-CONTROL-MIB |
| | CISCO-PRODUCTS-MIB |
| | CISCO-PROCESS-MIB |
| | CISCO-RTTMON-MIB |
| | CISCO-SMI-MIB |
| | CISCO-STP-EXTENSIONS-MIB |
| | CISCO-SYSLOG-MIB |
| | CISCO-TC-MIB |
| | CICSO-TCP-MIB |
| | CISCO-UDLDP-MIB |
| | CISCO-VLAN-IFTABLE |
| | CISCO-VLAN-MEMBERSHIP-MIB |
| | CISCO-VTP-MIB |
| | ENTITY-MIB |
| | ETHERLIKE-MIB |
| | IEEE8021-PAE-MIB |
| | IEEE8023-LAG-MIB |
| | IF-MIB |
| | INET-ADDRESS-MIB |
| | OLD-CISCO-CHASSIS-MIB |
| | OLD-CISCO-FLASH-MIB |
| | OLD-CISCO-INTERFACES-MIB |
| | OLD-CISCO-IP-MIB |
| | OLD-CISCO-SYS-MIB |
| | OLD-CISCO-TCP-MIB |
| | OLD-CISCO-TS-MIB |
| | RFC1213-MIB |
| | RMON-MIB |
| | RMON2-MIB |
| | SNMP-FRAMEWORK-MIB |
| | SNMP-MPD-MIB |
| | SNMP-NOTIFICATION-MIB |
| | SNMP-TARGET-MIB |
| | SNMPv2-MIB |
| | TCP-MIB |
| | UDP-MIB |
| Standards | IEEE 802.1D STP |
| | IEEE 802.1p CoS Prioritization |
| | IEEE 802.1Q VLAN |
| | IEEE 802.1s |
| | IEEE 802.1w |
| | IEEE 802.1X |
| | IEEE 802.1ab LLDP |
| | Bluetooth v4.0 |
| | IEEE 802.3ad |
| | IEEE 802.3af and IEEE 802.3at |
| | IEEE 802.3ah (100BASE-X single/multimode fiber only) |
| | IEEE 802.3x full duplex on 10BASE-T, 100BASE-TX, and 1000BASE-T ports |
| | IEEE 802.3 10BASE-T |
| | IEEE 802.3u 100BASE-TX |
| | IEEE 802.3ab 1000BASE-T |
| | IEEE 802.3z 1000BASE-X |
| | RMON I and II standards |
| | SNMP v1, v2c, and v3 |
| | IEEE 802.3az |
| | IEEE 802.3ae 10 Gigabit Ethernet |
| | IEEE 802.1ax |
| RFC compliance | RFC 768 - UDP |
| | RFC 783 - TFTP |
| | RFC 791 - IP |
| | RFC 792 - ICMP |
| | RFC 793 - TCP |
| | RFC 826 - ARP |
| | RFC 854 - Telnet |
| | RFC 951 - Bootstrap Protocol (BOOTP) |
| | RFC 959 - FTP |
| | RFC 1112 - IP Multicast and IGMP |
| | RFC 1157 - SNMP v1 |
| | RFC 1166 - IP Addresses |
| | RFC 1256 - ICMP Router Discovery |
| | RFC 1305 - NTP |
| | RFC 1492 - TACACS+ |
| | RFC 1493 - Bridge MIB |
| | RFC 1542 - BOOTP extensions |
| | RFC 1901 - SNMP v2C |
| | RFC 1902-1907 - SNMP v2 |
| | RFC 1981 - Maximum Transmission Unit (MTU) Path Discovery IPv6 |
| | FRC 2068 - HTTP |
| | RFC 2131 - DHCP |
| | RFC 2138 - RADIUS |
| | RFC 2233 - IF MIB v3 |