DS-6510-48: Brocade DS-6510B 6510 48-Port 16Gb/s Fibre Channel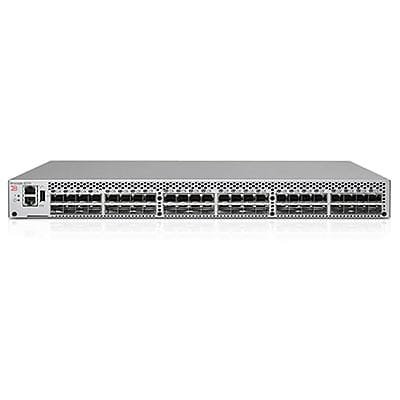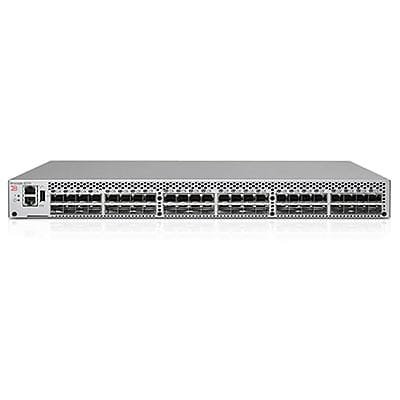 Description
Specifications
(Click here to contact us for full compatibility with your hardware.)
All hardware is new unless otherwise noted.
Brocade Part Number: DS-6510-48
Brocade 6510-48 Switch with 48 manged ports and with 48 x 16 Gbps SFP+ transceivers. Also known as Brocade 6510 FC SAN Switch for Lenovo with PN 3873BR1 and Feature Code ASJY.
Brocade DS-6510B 6510 48-Port 16Gb/s Fibre Channel
Compatible with Storwize V3700 and others. Check with Vertical Enterprise for full compatibility with your hardware particularly if you have questions concerning IBM / Lenovo Storwize compatibilty.
To all of our existing clients over the past 10 years:
Thank you for your continued business. We will strive to provide you with the highest level of quality hardware at competitive prices. If you don't see it on our site, please email us and we will update you with pricing and availability.
To all of our new clients:
Thank you for your consideration and the opportunity to work with you on your hardware needs. We stand behind our product with solid warranties, we provide high quality customer service and we appreciate your business.
Pricing can be flexible to meet your project and budget needs.
| | |
| --- | --- |
| Specs | |
| Form factor | Standalone or 1U rack mount |
| Ports | Brocade 6510: Up to 48 SFP/SFP+ ports. 24 ports licensed by default; up to two optional 12-port license packs. |
| Media types | 8 Gb FC and 16 Gb SFP+ transceivers: short-wave, long-wave, extended long-wave |
| Port speeds | 2/4/8 Gbps auto-sensing, full-duplex (8 Gb FC SFP+ transceivers) |
| | 4/8/16 Gbps auto-sensing, full-duplex (16 Gb FC SFP+ transceivers) |
| FC port types | Full Fabric mode: FL_Port, F_Port, M_Port, E_Port, D_Port |
| | Brocade Access Gateway mode: F_Port and NPIV-enabled N_Port. |
| Data traffic types | Unicast (Class 2 and Class 3), multicast (Class 3 only), broadcast (Class 3 only). |
| Classes of service | Class 2, Class 3, Class F |
| Standard software | Full Fabric mode, Access Gateway, Advanced Zoning, Adaptive Networking, Advanced Diagnostic Tools, Virtual Fabrics, In-flight Compression, In-flight Encryption. |
| Optional software | ISL Trunking, Fabric Vision, Extended Fabric, Integrated Routing. |
| Performance | 2.125 Gbit/sec line speed, full duplex |
| | 4.25 Gbit/sec line speed, full duplex |
| | 8.5 Gbit/sec line speed, full duplex |
| | 14.025 Gbit/sec line speed, full duplex |
| Aggregated throughput | Brocade 6510: 768 Gbps |
| | Up to 0.7 microseconds local switching latency |
| | Forward error correction (FEC): Adds up to 0.4 microseconds between E_Ports |
| | Encryption/compression: Adds up to 5.5 microseconds per node |
| Scalability | Maximum number of switches in the fabric: 239 |
| | Maximum frame size: 2,112-byte payload |
| | Maximum number of frame buffers per switch: 8,192 |
| | Maximum number of ports per ISL trunk: 8 (Requires an optional license) |
| Cooling | Two fans built into each power supply; 2+2 cooling redundancy with two power supplies. Non-port to port side airflow. |
| Power supply | Max qty two redundant hot-swap 150 W AC (100 - 240 V) power supplies |
| Hot-swap parts | SFP/SFP+ transceivers, power supplies with fans. |
| Management ports | One 10/100 Mb Ethernet port (UTP, RJ-45); one RS-232 port (RJ-45); one USB port (for additional firmware/log/configuration files storage). |
| Management interfaces | EZSwitch Setup; Web-based GUI (Brocade Web Tools); CLI; SMI-S; SNMP. Optional Brocade Network Advisor (available from Brocade) |
| Security | Secure Socket Layer (SSL); Secure Shell (SSH); Secure Copy (SCP); Secure FTP (SFTP); user level security, Role-based Access Control (RBAC); LDAP, RADIUS, and TACACS+ authentication; access control lists (ACLs); IP security (IPsec) |
| Dimensions | Height: 43 mm (1.7 in.); width: 438 mm (17.2 in.); depth: 443 mm (17.4 in.) |
| Weight | With two power supplies and no SFPs: 9.2 kg (20.2 lb) |